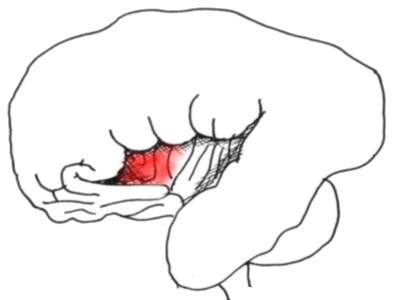 The part of the brain that may unlock the whole problem of addiction is about the size of a prune,
the NY Times reports.
"This is the first time we've shown anything like this, that damage to a specific brain area could remove the problem of addiction entirely," said Dr. Nora Volkow, director of the National Institute on Drug Abuse, which financed the study, along with the National Institute of Neurological Disorders and Stroke. "It's absolutely mind-boggling."
...
"In a sense it's not surprising that the insula is an important part of this circuit maintaining addiction, because we realized some years ago that it was going to be a critical platform for emotions," Dr. Damasio said in a telephone interview. "It is on this platform that we first anticipate pain and pleasure, not just smoking but eating chocolate, drinking a glass of wine, all of it."

This explains why cravings are so physical, and so hard to shake, he said: they have taken hold in the visceral reaches of the body well before they are even conscious.