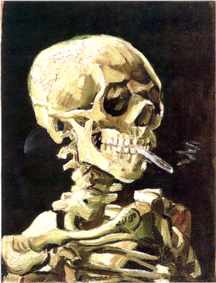 Here it is, the 16th day of my new quit-smoking campaign, and there's word from Scotland about the licensing of a new drug called "Champix," which
provides relief from withdrawal symptoms by sending a neurological signal to nicotine receptors in the brain.

By stimulating these receptors, smokers are provided with relief from their cravings. However, the drug also partially blocks the same receptors, ensuring that if a patient relapses they will not receive the same level of pleasure from smoking a cigarette.
(link)
About 13,000 people die each year in Scotland because of tobacco use, the story says.